UnderDog Defense and Faceoff Training Begins November 3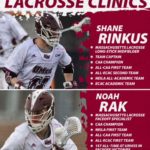 Position Specific Semi Private Classes led by two of UMass Minutemen's Finest.  Shane Rinkus leads the Defense coming off his sensational senior season at Umass to break down the smallest of details in becoming a great defenseman.  Noah Rak comes off becoming the leading Face Off Man in multiple categories at UMass to teach the art of Faceoffs.  Noah is now starring in the MLL for the Charlotte Hounds.
Full Schedule of Specialty Clinics coming this week.  Saturday, November 3 will be our first date with more to come this week.