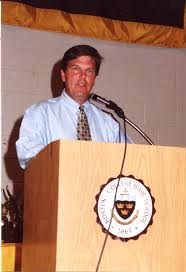 Rick is a native of Charlottesville, VA. Having grown up in the shadows of the University of Virginia, the entire community was impacted by the college's success on the lacrosse field. Rick's high school lacrosse team (Lane HS) produced 5 college All-Americans.
Rick attributes most of his success on and off the field to the coaches he had the privilege to play for. The two most influential were Jack Emmer at Washington & Lee University (Emmer was inducted into the National Lacrosse Hall of Fame in 2005. He retired in 2005 with 326 wins, making him the lacrosse coach with the most wins in NCAA history), and Howdy Myers at Hampden-Sydney College (1971 National Lacrosse Hall of Fame; namesake of the NCAA "Man of the Year Award", and called by Lacrosse Magazine as "The Greatest Coach of the 20th Century").
A three year starter at Hampden-Sydney (after transferring from W&L), Rick still sits at the #4 position for career saves. Along with his son Mark, they occupy 5 of the top 15 saves seasons of all time. He was a two time All-Southern Lacrosse League performer and a one time "In the Crease Magazine" All-American.
Career Highlights:
* Current Head Coach at Weymouth HS
* 2011-2014 Babson College; Defensive Coordinator / Goalies Coach
* 2009 – 2011 Marshfield HS; overall 50-11; 2011, 20-0; ACL 36-0 (3 yrs)
* ACL Coach of the Year, 2009, '10, '11
* 2004 – 2008 Scituate HS; 2008 – D3 State Champs; 2007 – D3 Runner-up
* Patriot League Coach of the Year '08
* Boston Globe Coach of the Year 2007
* 2002-2004 AD at Bellarmine Univ., started D1 lacrosse program
* 1996-2002 Director of Athletics at Emerson College – started D3 program, coached first year, 9-1
* 1995-2002 Boston College HS; Head Coach 2001-2002; 24-13
* Northeastern U, 1985-1986, Head Coach, overall record 19-5
* University of Georgia, 1980, Head Coach, one year record 10-6