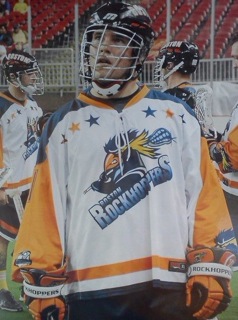 Steve Trocki
Steve Trocki's inaugural year as varsity head coach for Braintree High School was a highly successful one. The former midfielder and Boston College High School alumnus was selected as the 2014 Coach of the Year for both Eastern Massachusetts and the Bay State League. When he isn't coaching, Trocki is a special education teacher at Braintree H.S. and COAST Program Coordinator, working with students with learning disabilities and high-functioning autism, as well as Head Coach and Coordinator of the Special Olympics of Braintree.
Prior to joining the Braintree coaching ranks, Trocki served as assistant coach at Boston College High School (2011-2013) and NCAA Division III Curry College (2008-2010). While coaching at BC High School, Trocki played professional indoor lacrosse as a member of the North American Lacrosse League's Boston Rockhoppers, before the league folded in 2012.
An all-star midfielder at NCAA Division II Saint Anselm College in New Hampshire, Trocki's was the Hawk's Most Valuable Player during his 2008 senior season. That year, he was also named a Division II 1st Team All-New England Selection and Division II Northeast-10 2nd Team All-Conference Selection, and invited to play in the New England Senior All-Star Game. Trocki still dons the helmet and gloves for notable men's club teams Megamen, Rock Lobsters, Womps, and The Black Dog Lacrosse, which helps raise funds for the Special Olympics.
Career Highlights:
• 2014 Eastern Massachusetts Coach of the Year (Braintree High School)
• 2014 Bay State League Coach of the Year
• Varsity Head Coach, Braintree High School (2014-present)
• Assistant Coach, Boston College High School (2011 – 2013)
• Assistant Coach, Curry College (2008 – 2010)
• 2008 Saint Anselm College Most Valuable Player
• 2008 Division II 1st Team All-New England Selection
• 2008 Division II Northeast-10 2nd Team All-Conference Selection
• Midfielder – Boston Rockhoppers, North American Lacrosse League (NALL) (2012