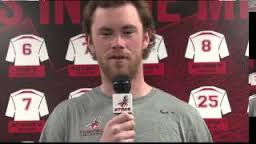 Jay Walsh
Jay Walsh earned three varsity letters at Duxbury High School where he helped the Dragons to 62 wins and consecutive Division 1 State Championships in 2011 and 2012. A captain his senior season, the LSM was named an ESPN Boston Pre-Season All-State Team selection prior to the 2013 campaign and was selected for the Duxbury Lacrosse Booster Scholarship. While at Duxbury, Walsh was a Bostonlax.net All-American, Patriot League All-Star, Patriot Ledger All-Scholastic award winner and was the 2013 Duxbury Defensive Most Valuable Player.
After graduating from Duxbury, Walsh joined Division I Fairfield University and majors in Communications. Although he was redshirted in 2015 due to injury, Walsh had an exemplary rookie season. He appeared in all 16 games on defense tallying 15 ground balls and causing seven turnovers. He was named to the ECAC All-Rookie Team and was a 2014 ECAC regular season champion.
Walsh is currently the Assistant Defensive Coach as Fairfield Prep in Connecticut. He is the son of Jimmy Walsh, who played hockey and football at Northeastern University and went on to an NHL career with the Hartford Whalers, Buffalo Sabres, and Los Angeles Kings from 1979-84.
Career Highlights:
• Sophomore long-stick midfielder for NCAA Division I Fairfield University
• 2014 Eastern College Athletic Conference All-Rookie Team
• 2013 graduate and three-year varsity player at Duxbury High School
• Two-time Massachusetts Division 1 State Champion with Duxbury High School
• Patriot League All-Star and Patriot Ledger All-Scholastic award winner